Introduction
Screening films outside of the traditional classroom can supplement what instructors cover in their courses; but knowing where to begin and what steps to take to organize a screening might seem confusing and expensive. Here's a how-to for Mason faculty, students, and other members of our community on how to begin the process.
---
Planning a Film Screening
Start by reaching out to related classes, events, and colleagues. Having a partner right from the start will help you create a screening event that will benefit more campus groups, increase attendance, and possibly lower costs.
You will want to plan and budget for the following:
Type of event, such as an informal discussion following the screening, having a panel of experts debate the film, or just a film screening.

Number of people expected

Cost of the film, including public performance rights
How the film will be shown, for example: DVD, Blu-ray, or streaming. Consider if Events Production will be needed for playing the film, or for other equipment.

Guest speaker(s), if desired

Promotion of event

Refreshments
---
Funding
Here are just a few sources you can try:
---
Location
Think about how many people you are expecting. For example, if you want to have breakout conversations after a screening, then consider a classroom.

Check the University's scheduling website, 25Live, for room availability.
Book equipment, e.g., DVD player, with Events Production.
Contact the Office of Events Management for help or advice.
---
Finding a Film
The University Libraries' Collection has over a thousand films with public performance rights (PPR). Search for a film in the catalog and look for public performance rights information in the notes field. If you don't see it, contact Media Services for assistance.
Here is an example from the library's catalog: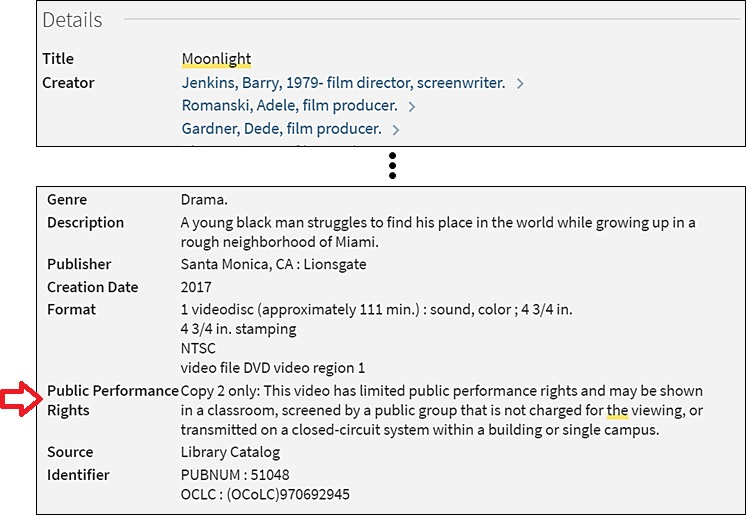 Alternatively, authorized Mason users (Mason employees and/or students) can stream media from the Library Databases for public performance from DocuSeek2, Kanopy, and Films on Demand as long as the screening is not for commercial benefit. These streaming services can be found from the library homepage by navigating to Databases (link under the Quick Search box) and then to either the Film & Media Studies page, by Title, or by the Search Database Titles & Descriptions box on the right hand side of the screen.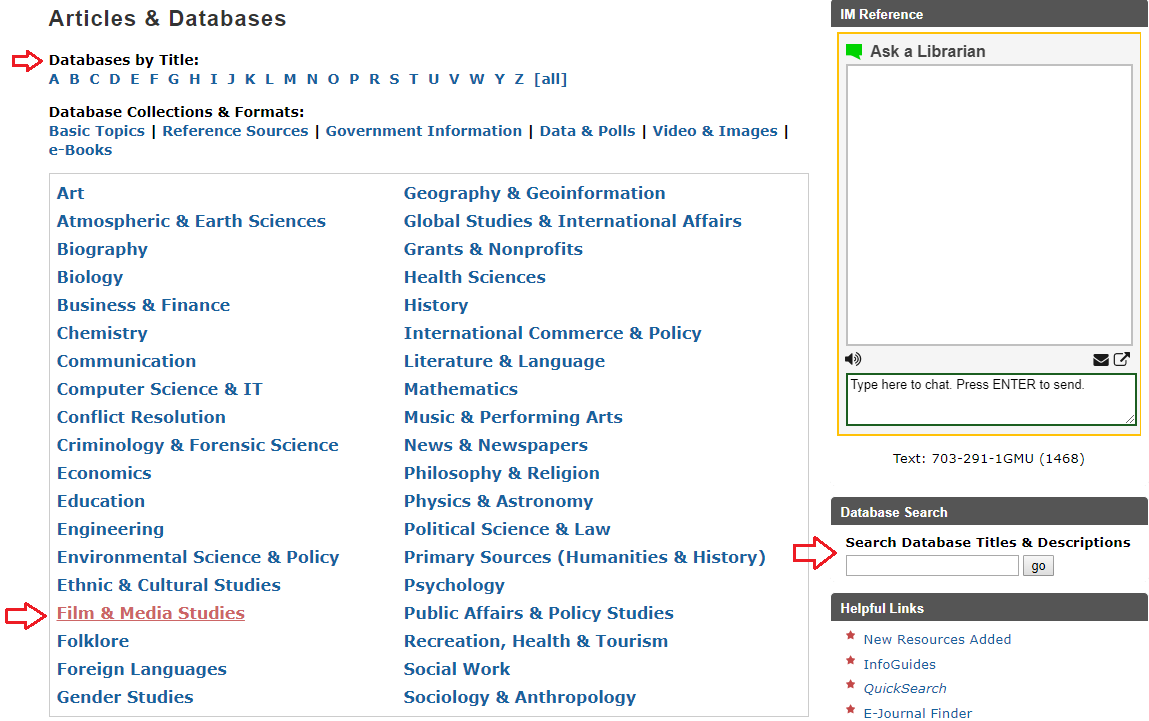 ---
Promoting Your Film Screening
Submit an announcement to Around Mason at least a week before your screening.
Make sure you include a listing for Today@Mason Calendar when you submit your event to 25Live.

Flyers

Social media

Create an ad for Mason's video screens.

Ask other academic units or university groups to promote your screening.

Faculty: incorporate the screening into your course, e.g., requiring attendance, creating a learning objective, offering extra credit
---
Asking for Feedback on Your Film Screening
Follow-up with attendees immediately after your film screening. One way to do this is to simply leave surveys on each seat and collect them after the event.
Here is a survey used from a past film screening: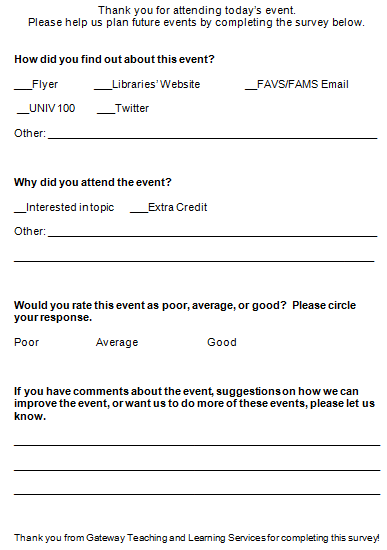 ---
More Information
Discussing Your Film Screening
Consider having a speaker introduce your film or lead a discussion following your film. A post-film discussion provides an opportunity to unpack powerful ideas shown in a film, build community, or start a dialogue that extends beyond the screening.
You can lead the discussion by creating questions based on your own viewing, and/or seeing if the film's website offers a discussion guide.

If you're not sure who can lead your film discussion, try asking a faculty person or another campus expert on your film's topic.

Make sure to build in the discussion time to your room booking. An introduction might take five minutes, but a discussion might take ten to twenty minutes.
Acquiring Public Performance Rights (PPR)
If you want to screen a film outside of any Mason classroom, you will need to make sure that you (e.g., Mason faculty, staff, student) have the right to publicly display the film, commonly called "Public Performance Rights" (PPR). Often that right costs an additional fee that can be $200 or more.
Showing a film "publicly" is defined in U.S. Copyright Law as:
"to perform or display it at a place open to the public or at any place where a substantial number of persons outside of a normal circle of a family and its social acquaintances is gathered." (17 U.S.C. § 101)
So if you open up a free screening to the general public, or run a student film club, your event is classified as a public event.
---
References
This tutorial is based on:
Jenemann, L., and Petin, M. (2015, September). Outside of the Classroom: How to Show a Great Film at Mason! Poster presented at the Innovations in Teaching and Learning Conference, George Mason University, Fairfax, VA. Retrieved from http://dx.doi.org/10.13021/G86W26.
---
Get Help
Need help planning your film screening? Contact Heather Darnell for more help. If you have questions or need more help try Ask a Librarian or explore the subject guide for your discipline.
 Hosting a Film Screening by The Teaching & Learning Team is licensed under a Creative Commons Attribution 4.0 International License.