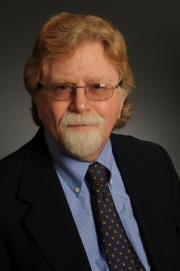 Randolph Lytton, Emeritus, Department of History & Art History, was a professor of ancient history at George Mason University from 1972 until his retirement in 2014. During his time at Mason he supported the Libraries as the departmental library representative aiding in the collection development of history course and research materials, as a member of the University Library Committee, and as a member of the George Mason University Libraries Advisory Board. He became chair of the Libraries Advisory Board in 2017.
Besides teaching courses in Greek and Roman history, Dr. Lytton was Director of the Western Civilization Program. He helped create the Bachelor of Individualized Studies (BIS) program, chaired the University BIS Committee, and directed the BIS program for a number of years. As an Assistant Dean in the then College of Arts and Sciences, Dr. Lytton worked to help undergraduates towards gaining their degrees. During his time at Mason, he led many students, staff, and friends of the University overseas on educational trips to Greece and Italy, and directed Mason's residence study abroad programs at Oxford University in England at St. Peter's and Exeter colleges.
An advocate of local history, Dr. Lytton has served as vice chair and chair on Historic Fairfax City, Inc., assisting in the creation of the Fairfax Museum and Visitor Center and the opening of the historic Ratcliffe-Allison-Pozer House. He also was vice chair of the City of Fairfax Commission on the Arts, and was instrumental in developing a public art policy and guidelines.
Dr. and Mrs. Lytton feel a strong commitment to the George Mason University Libraries. They have supported the various missions of the Mason Libraries through financial contributions and donations of library resource materials. They have created an endowment through Special Collections which focuses on the Northern Virginia region from its beginning under the Fairfax family to the present day, and have made the George Mason University Libraries a beneficiary in their wills.