Departments and Units within Technical Services: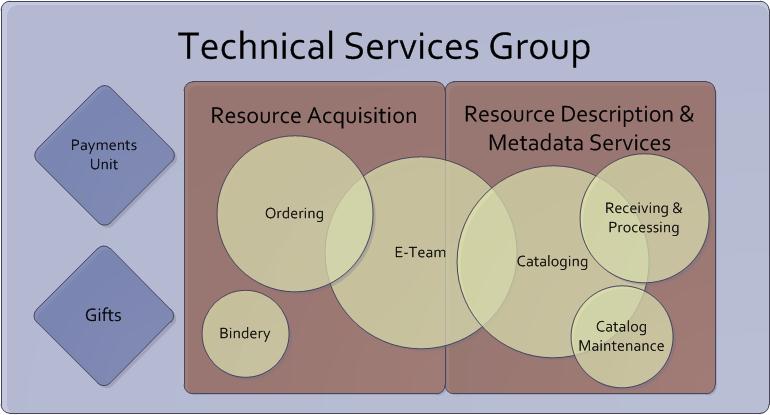 Resource Acquisition (RA)
The Resource Acquisition Department is responsible for the acquisitions functions for library resources in all formats, to include ordering and claiming materials, and managing access to purchased electronic resources. The Department objectives are to ensure that all resources are acquired efficiently and effectively, and to provide on-going order management for the Libraries's research and educational materials, including ensuring that all purchased electronic resources are carefully and accurately maintained so student, faculty, and staff access is not compromised.
 
Resource Description & Metadata Services (RDMS)
The Resource Description & Metadata Services Department receives and provides in-depth cataloging and high quality description for the University Libraries and for national bibliographic databases of research materials purchased or acquired as gifts by the University Libraries in all formats, in all languages. RDMS oversees metadata creation across multiple departments within the University Libraries and works closely with Digital Projects and Systems, Special Collections & Archives, and Research & Educational Services to ensure accurate metadata that can be re-purposed for multiple uses and systems. The department also performs ongoing bibliographic and authority maintenance of the records in these databases as well as physical processing for these materials.
 
Payments Unit
The Payments Unit is responsible for ensuring that payment for library materials is made accurately, completely, and as quickly as possible. The Unit also ensures that the University Libraries complies with all Commonwealth of Virginia guidelines for the purchase and payment process for the materials budget. Staff in this unit work closely with the University's Fiscal Services unit and the Libraries' Collection Development & Preservation Department to ensure that the materials budget is spent fully and responsibly. It closely tracks all payments and credits for the materials budget and compiles a number of reports used for collections and budget planning purposes. This unit is supervised by the Director, Technical Services and includes two staff members.
 
Gifts
The Gifts Program is responsible for gifts of books, manuscripts, music, and other research materials to the University Libraries. Please consult our Gifts-in-Kind Policy for more information about materials accepted by the Libraries.