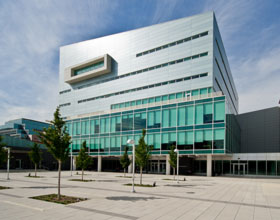 Arlington Campus Library
3351 Fairfax Drive
Founders Hall
Arlington, VA 22201
Circulation Desk: 703-993-8188
Reference Desk: 703-993-8230

The Arlington Campus Library, located on the second floor of Founders Hall, houses materials that support the academic programs offered at George Mason University's Arlington Campus. These programs include Public Policy, International Commerce, Public Administration, Conflict Resolution, Nonprofit Management, Arts Management, Transportation Policy and others. In addition to its core reference and circulating collections, the Arlington Campus Library also serves as a repository for European Union documents.

The library has 9 study rooms designed for group work and studying. The rooms vary in size, holding between 4 and 12 people each. The Instruction Room offers 15 computer terminals for workshops. Also available for use is an Assistive Technology Room equipped with computers and specialized software applications for individuals with mobility, cognitive, visual and hearing impairments.

Arlington Campus Library features 26 research terminals for students, faculty and staff, as well as 2 "express stations," a dedicated Advanced Datastream terminal, and a dedicated NVivo terminal.
The library offers workshops throughout the semester on topics that include library orientations, the bibliographic software Zotero, advanced subject-specific research strategies, and data services.