Mercer Library - Prince William Campus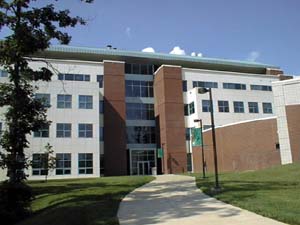 10900 University Blvd.
Occoquan Bldg., Rm 104
Manassas, VA 20110-2203
MSN 4E6
Circulation Desk #: (703) 993-8340
Reference Desk #: (703) 993-8342
Fax #: (703) 993-8349
Library Hours
Directions to Prince William Campus
Parking at Prince William Campus
---
Support Services
Electronic Reference Desk: pwlnode@gmu.edu
ICL/CLS/ILL Document Services assistance: (703) 993-8364
Media/Reserves Services assistance: (703) 993-8358
---
Mercer Library Staff Directory
Mary Berkebile
Circulation Supervisor
mberkebi@gmu.edu
(703) 993-8479
Doug Hernandez
Reference Instruction Support Specialist
703-993-8357
dhernan9@gmu.edu
Janna Mattson
Social Sciences Liaison Librarian
jmattso1@gmu.edu
(703) 993-8348
Heather Hannan
Head, Mercer Library
hhannan@gmu.edu
(703) 993-8344
Shannon Hogya
Document Delivery Coordinator
shogya1@gmu.edu
(703) 993-8364
Teresa Kan
Research Services/Instruction Specialist
tkan@gmu.edu
(703) 993-8358
Richard Plaskus
Access Services Support Specialist
rplaskus@gmu.edu
(703) 993-7539
Victoria Martin
Bio/Life Sciences Liaison Librarian
vmartina@gmu.edu
(703) 993-8347
Everett Seamans
Evening Circulation Supervisor & Stacks Manager
eseaman1@gmu.edu
(703) 993-8362
---
---
Mercer Library
Information & Services
The Mercer Library, on the Prince William Campus, is part of the George Mason University Libraries system and provides full-access to all GMU-owned print and electronic resources. This means researchers have at their disposal, a collection of one million titles and over 250 electronic databases. The Mercer Library collection specializes in the following disciplines: Health and Fitness, Tourism, Administration of Justice, Education, Biodefense, Bioinformatics, and Computer Science.
Classes in library research techniques are offered on a drop-in basis each semester, as are one-on-one reference consultations and library tours.
The Mercer Library is equipped with two group study rooms, a group media viewing room, and an assistive technology room. Media viewing/listening carrels are provided for videos, audiotapes, and DVD's. There are 27 public access computer terminals in the library. 13 are equipped with Microsoft Office software. Additional public access computer terminals are located in the campus computer lab, Bull Run Hall, room 148.
The Mercer Library has two public access printers. In order to print material, you may either add money to your GMU ID card or purchase a print card in the library. The card costs $1. You can then add money to the card indefinitely, like a Metro fare card. Each printed page costs 8 cents.
There are two photocopiers in the library. You can use cash, your print card, or GMU ID. Copies are 10 cents for each page. The library also owns two microfiche reader/printers.
Other printing services (color copies, color paper, transparencies, binding, etc.) are available in the Print Services office, Bull Run Hall, room 108.
GMU faculty, staff and students may have materials from other GMU libraries sent to Mercer Library. Most material is obtained within a week. Search the Mason catalog for your item, then request it online with an InterCAMPUS Loan form (ICL).
If GMU does not have your book, try searching the WRLC (Washington Research Library Consortium) catalog. Once you find the record of the book you would like to borrow, simply fill out an online Consortium Loan Request (CLS) by clicking on 'Request.' The book should arrive at the Mercer Library in 3-4 days.
If the book you are looking for is not in either the Mason catalog or the WRLC catalog, you can place an Interlibrary Loan request (ILL). ILL's usually take 7-10 days minimum and should only be used after all other options have been explored.
You can find links for the various types of loan requests on the library home page at E-Requests.
Library materials may be returned to any GMU Library Circulation Desk and the information desk at the Johnson Center regardless of where they were checked out.