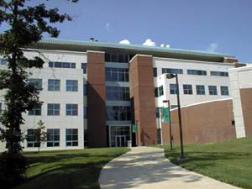 Mercer Library, on the Science and Technology Campus, provides access to all Mason print and electronic resources. Mercer Library specializes in Health and Fitness, Tourism, Criminology, Law & Society, Education, Biodefense, Bioinformatics, and Computer Science.
Spaces
Mercer Library has media viewing equipment: DVD's, Video and Cassette tapes Assistive Technology with a designated scanner, reading software and CCTV.
There are 12 public terminals with internet access and Microsoft Office software.
Mercer Library has a Consultation Desk that can be reserved for one-on-one tutoring or collaborative research support. Reservations for the Consultation Desk can be made by calling the Mercer Combined Service Desk, 703/993-8340
Additional public access computer terminals are located in the campus computer lab.
The Mercer Library has two public access printers and two photocopiers. You can use cash, your print card, or GMU ID. Copies are 10 cents for each page.  Other printing services (color copies, color paper, transparencies, binding, etc.) are available in the Print Services office, Bull Run Hall, room 108.
Mercer Library also has two group study rooms, 
Assistance
Classes in library research techniques are offered on a drop-in basis each semester, as are one-on-one reference consultations and library tours.
Please contact the Mercer Library service desk at 703-993-8340 for more information.
Information
Service Desk: 703-993-8340
10900 University Blvd
Occoquan Bldg., Room 104
MSN 4E6
Manassas, VA 20110-2203