What is the One Button Studio?
The One Button Studio is a simplified video recording setup that can be used without any previous video production experience. The design of the studio allows you to create high-quality and polished video projects without having to know anything about lights and cameras. You only need to bring your flash drive with you and push a single button.
Questions? Check out our FAQs.
How Does It Work?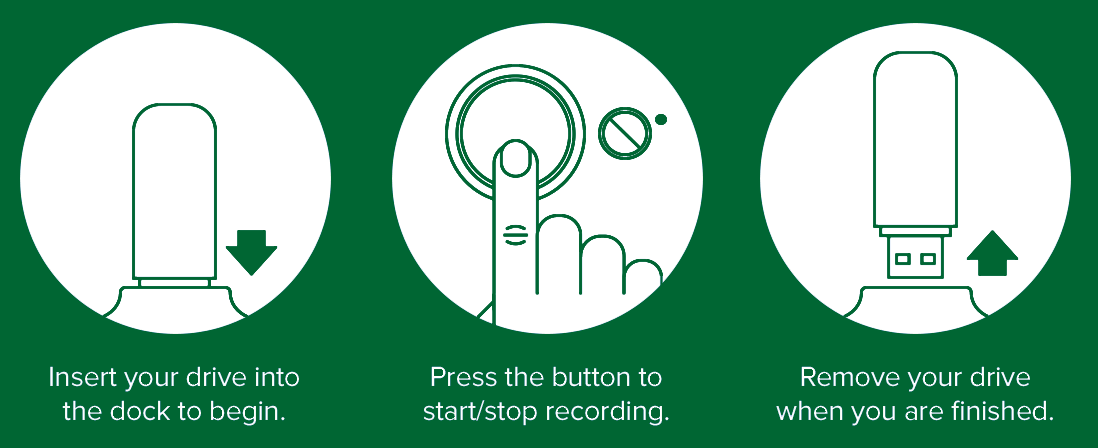 Create high quality videos in 3 simple steps:
Plug your own USB flash drive into the dock to activate the lights and camera

Start and stop recording with the touch of a button

Remove your flash drive when you are finished
Your recording is saved to your flash drive as an .mp4 file which is easy to upload to YouTube, Blackboard, and play on most computers. It's that easy!
Ways to Use the One Button Studio
For Students:
Practice for an interview
Record a class presentation
Create content for an ePortfolio
For Faculty/Staff:
Record a lecture for your online or flipped class
Present a research paper
Create a video introduction for an online course
Who may use the One Button Studio?
The room may be reserved by Mason students, staff, and faculty. You will need a .edu or .masonlive.edu email address to reserve the room. Users must understand and accept the Library Resources and Facilities Use Policy.
How long can I book the studio?
You can reserve the One Button Studio in 1-hour blocks. Reservations must be requested 24 hours in advance. Individuals may stay beyond their reserved time if there is no subsequent reservation. During times of high demand, library staff may limit recurring usage. To reserve Studio time email us at sparc@gmu.edu or call us during office hours at 703-993-1613.
How large of a flash drive do I need to bring?
We recommend bringing a flash drive with at least 1 GB of free space formatted as FAT32.
What equipment is in the studio?
Canon HD Camcorder
3 point lighting kit
Green screen
iMac presentation computer
2 Epson HD projectors
Røde shotgun microphone
Logitech presentation remote
Where can I get help with video editing?
The One Button Studio does not provide editing assistance, however feel free to stop by the STAR Lab or CLUB both located in the Johnson Center. There are also several online resources to guide you - Lynda is a training service for many types of software and is free for Mason students, faculty, and staff. We've highlighted some tutorials to get you started.
YouTube editor (for Web)
iMovie (for Mac)
Windows Live Movie Maker (for PC)
What are alternative resources to the One Button Studio on campus?
While the One Button Studio is operating under limited hours faculty, students, and staff are encouraged to utilize the STAR Lab for video production and video production equipment for rent, which can be used to film in the One Button Studios.
How can I improve my presentation skills?
LinkedIn Learning ( formerly Lynda.com) has  curated playlist  to help you improve your skills behind the camera or in front of a group.