What Am I Searching?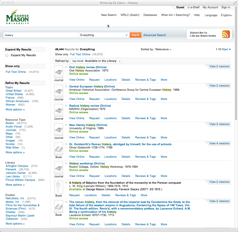 QuickSearch allows you to search hundreds of millions of items simultaneously, including:
Mason Collections
The books, e-books and media we've always had in our catalog
Mason's Electronic Dissertations and Theses
Mason Collections and More (includes all the above and adds...)
Research databases and E-Journal collections like ERIC, MEDLINE, JSTOR and many others.
Legal, governmental and archival materials
Using QuickSearch
QuickSearch retrieves items that satisfy your search terms from the collections of Mason's libraries, from individual publishers and from open-access scholarly repositories. You may also expand your search results to include items where immediate access is not possible by using the "Expand My Results" option on the search results page. For more in-depth research, you'll also want to consult our Database Portal to search content that isn't necessarily included within QuickSearch.
You can access items held by other institutions via our Interlibrary Loan Service, or in-person visits to Washington Research Library Consortium member libraries.