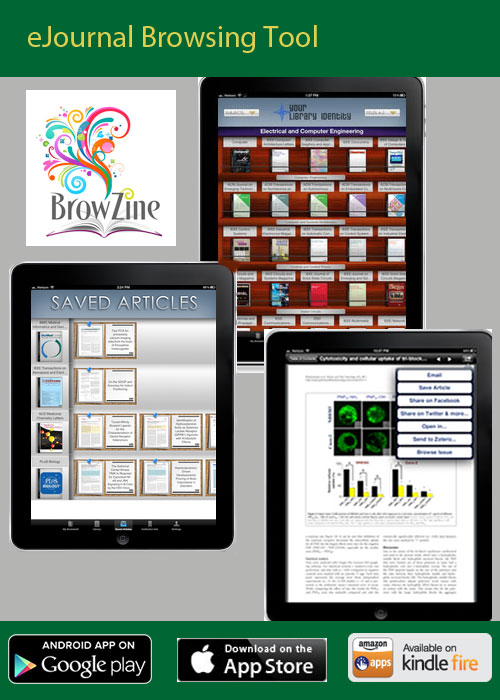 Browse scholarly journals with BrowZine

George Mason University Libraries puts the best research at your fingertips and now browsing is available on the go or at the desk. BrowZine allows you to...
Browse much of the online journal collection using web or mobile applications access (2005-current);
Read and monitor many of Mason's scholarly journals;
Receive content in a format optimized for your web browser using a desktop, iPhone, iPad, Android and other tablets.
BrowZine brings journal content together from multiple publishers and platforms, both open-access and subscribed, into a single place where you can save your favorite journals and view the tables of contents, and read full articles. On the mobile application save articles as new issues are released (feature to be released Fall 2015 for web version). Note: BrowZine is not inclusive of all issues of all journal titles available at Mason Libraries.
Using access through the mobile applications, items found in BrowZine can easily be synced up with Zotero, Mendeley, RefWorks, Dropbox or several other services to help keep all of your information together in one place. The web version will release additional features in Fall 2015. The list of currently supported publishers is growing.
How do I get BrowZine?
Summer 2015- BrowZine web version is available making desktop access now possible. with reading list, citation and other features coming soon.
BrowZine is available from Apple App Store, Google Play Store, and Amazon Kindle App Store. It's a free download, but make sure to choose "George Mason University" from the list of libraries so you have access to the journals we subscribe to.
What devices are supported?
iPhones, Smart Phones, and Tablets. For now, BrowZine is available for all versions of the iPhone, iPad and iPad Mini running iOS 5.1 or later, and on Android tablets running Android 4.1+, including the Google Nexus 7 or 10, the Samsung Galaxy Tab, and the Kindle Fire HD. thirdiron.com/download
Web version available for laptop or desktop. BrowZine is now available for laptop or desktop computers and is supported by the following browsers: Chrome version 43+, Safari version 8+, Firefox version 31+, and Internet Explorer version 11+.
Learn More About BrowZine
To learn more and start using BrowZine today,
---
More Research Tools and Applications
JournalTOCs - Stay current with the latest table of contents deliver service.
InfoGuides describe additional apps which can be used for mobile library resource access, e-books, research citation tools and more.