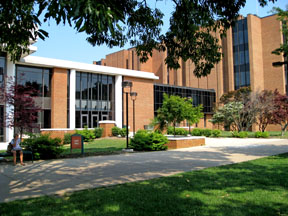 Fenwick Library, the main research library in the GMU Library System, houses most of the libraries' print collections in all disciplines including journals, newspapers, and maps.
In addition to the print collections, the library offers resources in microform and electronic formats.
Electronic resources include networked and stand-alone CD-ROMs, the libraries' online catalog, a number of databases available through the libraries' membership in various consortia, and Internet access.
Reference librarians in Fenwick assist faculty with specific research projects, teach classes about information search strategies and resources, and work with specific academic departments to develop library collections. Fenwick staff also assist students at all levels -- graduate and undergraduate -- as they become more sophisticated library users throughout their careers at GMU.
Notable Collections
The Special Collections and Archives Department in Fenwick Library collects, organizes and preserves books and other items of historical or special interest to the GMU Community; scans and digitizes some especially noteworthy materials for research use (available via the Libraries' Web Pages), and provides finding aids for identification and use of special and archival materials.
Another important collection of research materials housed in Fenwick is the Government Documents collection. This collection includes both federal and Virginia state documents. Fenwick Library has been a federal selective depository since 1960. Due to construction of the new Fenwick Addition, most of Mason Libraries' print U.S. documents collection are now located at the Arlington Campus Library. Both sets of documents contain items from the administrative, legislative, and judicial branches of government, and constitute an invaluable source of primary source materials for students and faculty in political scienice, public policy, sociology, business and other fields. U.S. federal publications are valuable sources of current and historical information on a variety of topics.
Departments
Departments located in Fenwick Library include:
Information
Information/Directory (recording): 703-993-2250
Circulation Desk: 703-993-2240
Fenwick Library Construction Updates
Keep up with Fenwick Research Services: Twitter & Facebook
4400 University Dr., MSN 2FL
Fairfax, VA 22030