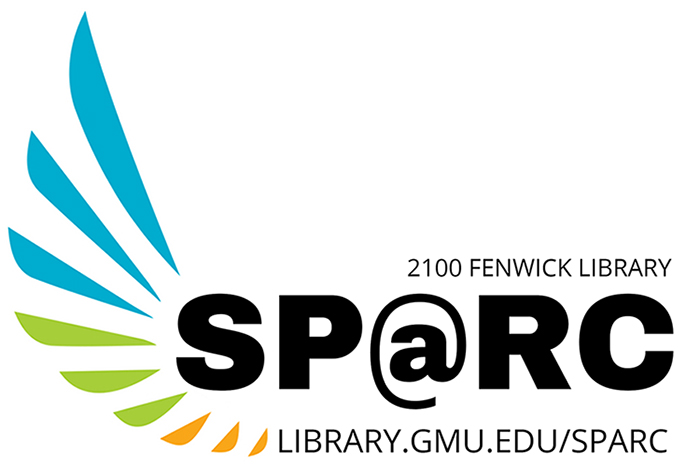 What Do We Do?
Scholarly Productions at the Research Commons (SP@RC) assists scholars and artists in the production of research and creative activities. SP@RC offers poster printing, hands-on Risograph printing, and simplified video production at the One Button Studio. The space also has four Mac workstations equipped with various multimedia software. These services and resources can be utilized by any Mason student, staff, or faculty. No appointment is needed to pick up your poster or to visit us at 2100 Fenwick Library during open hours.
Poster Printing
Mason affiliates can print posters related to research or creative work at no cost through a partnership with the Office of Student Scholarship, Creative Activities, and Research (OSCAR). Posters are printed on heavyweight coated paper by our HP DesignJet T730.
IMPORTANT: SP@RC's poster printer is currently broken. Turnaround times will be longer than average. Patrons are temporarily recommended to seek printing at the Print Hub.
Please use this form to submit your poster for printing. Average turnaround time is 24 hours.
A Mason email is required for this service.
Risograph Printing
A Risograph (pronounced "ree-so-graph") is best described as a printer/duplicator that combines screen-printing and photocopying processes, using vibrantly colored ink and quickly producing many copies of a design. SP@RC offers a Riso model RZ590 UI (donated by Mason's School of Art), paper, six ink colors, and a workspace for those who wish to create a flier, zine, or other similar creative work.
*Patrons must have some technical knowledge of the Risograph before being granted independent use, either by having taken relevant coursework or attending a training session. Training sessions will be offered regularly beginning in Spring 2024.*
Click here to reserve time in the Risograph Lab.
One Button Studio
One Button Studio (OBS) is a simplified video recording setup that can be used without any previous video production experience. Visit our Info Guide to learn more. 
OBS reservations can be made here.
Mac Workstations
Four Mac workstations are available for use on a first-come, first-serve basis. They are equipped with various software including:
Adobe Creative Cloud
GIMP 2.10
Mendeley Desktop
Microsoft Office
Zotero
SP@RC
2100 Fenwick Library 
Monday
Tuesday
Wednesday
Thursday
Friday
11 am - 4 pm
11 am - 4 pm
11 am - 4 pm
11 am - 4 pm
11 am - 4 pm
Get started on your research poster with a template and some tips from OSCAR.
WATCH: A basic guide to creating research posters
Partners