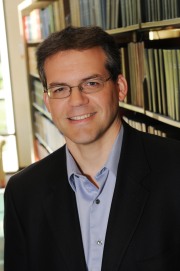 Since 2009, Ken Budd has been the Executive Editor of AARP The Magazine. His writing credits include Smithsonian, The Washington Post, The Washington Post Magazine, Stuff, Washingtonian, Worldview, McSweeney's, and Might. His first book, published by HarperCollins, is a personal travelogue entitled The Voluntourist: A Six-Country Tale of Love, Loss, Fatherhood, Fate, and Singing Bon Jovi in Bethlehem.
Mr. Budd has made over 40 appearances on TV and radio, including the Today show, ABC News Now, CBS Early Show, CNBC Power Lunch, CNBC Street Signs, Al Jazeera English, and Martha Stewart Living Radio.
Mr. Budd holds a BA ('88) and an MA ('97) in English from George Mason University and is one of the founders of the Robert M. Budd Scholarship Endowment at Mason. He has served as a contributing editor for The Mason Spirit, and he is an officer of Mason's English alumni society. He has also contributed to The Mason Gazette and participated in Mason panel discussions on careers and publishing. Mr. Budd was named Alumnus of the Year for 2009 by Mason's English department.