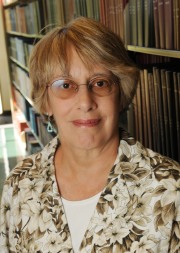 Janet Cochran grew up in Michigan and Ohio, receiving a BA in French from Denison University. She has a Master of Library Science from the University of Michigan. She worked in the D.C. Public Library for ten years before working first at the U. S. Consumer Product Safety Commission and then at George Mason University's Fenwick Library as reference librarian.
Ms. Cochran served as Manager of Medical Information Services at Pracon, Inc. Her department at Pracon provided medical information services and trained nurses to become medical information specialists.
Ms. Cochran retired, in part, because she wanted to join the George Mason University's Osher Lifelong Learning Institute at George Mason University (OLLI). OLLI has become an important part of her life. She has taught classes at OLLI about finding health information on the internet. She is currently an officer of the OLLI Board of Directors.