Library Faculty/Staff profile for kbutle18
Kathleen Butler
Health Sciences Librarian

Sciences and Technology Team; Learning, Research and Engagement
Education
Science Communication CERG, George Mason University 2016
Master in Librarianship, University of Washington 1983
Bachelor in Education and Bachelor in Child Psychology, Eastern Washington University 1975
Biography
My professional experience is grounded in medical librarianship, specifically working as a clinical librarian in psychiatric and medical hospitals for 26 years. I moved into academic librarianship at Mason in 2012, and have been the Health Sciences Librarian for Mason since 2016.
Working within the College of Health and Human Services, I assist undergraduates, graduate students and faculty in Health Administration & Policy, Global & Community Public Health, Nutrition & Food Studies, Rehabilitation Sciences, Nursing, and Social Work.
Selected Scholarship and Service
Academy of Health Information Professionals (AHIP), Certified Member, 1990-2009; Senior Member 2017-2022
Publications
Butler, K., & Calcagno, T. (2020). Syllabus mining for information literacy instruction: A scoping review. Evidence Based Library and Information Practice, 15(4), 83-104. https://doi.org/10.18438/eblip29800
Butler, K. (2019). Introduction to research methods in global health. IN Young, L. M., & Hinton, E. G. (Eds.). (2019). Framing healthcare instruction: An information literacy handbook for the health sciences (p.46-48). Rowman & Littlefield.
Butler, K. (2016). Reviews of Science for Science Librarians: CRISPR-Cas9 Revolutionizes Gene Editing. Science & Technology Libraries, 35(3), 221-227.
Butler, K. & Byrd, J. (2016). Research Consultation Assessment: Perceptions of Students and Librarians. Journal of Academic Librarianship,42(1),83-86.
Butler, K. & Perini, M. (2015). Does Virtual Communication Equal Virtual Collaboration? The Influence of Technology on Job Satisfaction and Collaboration. Collaborative Librarianship, 7(30), 120-129.
Butler, K. (2015). PILOTS (Published International Literature on Traumatic Stress). The Charleston Advisor, 16(3) 23-24. (Peer-reviewed)
Butler, K. (2014). GREENR (Global Reference on the Environment, Energy, and Natural Resources). The Charleston Advisor, 16(2), 28-30. (Peer-reviewed)
Butler, K. (2013). Review:  Vactionland:  Tourism and Environment in the Colorado High Country, Electronic Green Journal, 1(36).
Butler, K. (2008). Consumer health connections: a kiosk solution. Journal of Hospital Librarianship, 28(2), 145-154.
Poster Presentations
Butler, K., Mattson, J. & Oberlies, M. Partnering with Your Librarian: Leveraging the Framework for Information Literacy for Higher Education Across Disciplines. Poster presentation. Innovations in Teaching & Learning Conference Proceedings 7, 2015. DOI: http://dx.doi.org/10.13021/G86P4W
Butler, K. "To Your Health! /¡Salud! Information Portal for Arlington, Virginia."  Poster presented at MidAtlantic Chapter of Medical Library Association 2011 Annual Meeting, Richmond VA, October 11, 2011.
Butler, K. "A Web-Based Information Service: Medical Rehabilitation Services and Health Policy." Medical Library Association 1997 Annual Meeting. Seattle WA, May 1997.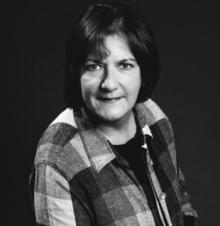 Contact Information:
Building:
Fenwick Library