Library Faculty/Staff profile for mlam3
Margaret Lam
Physical Sciences and STEM Data Librarian

Sciences and Technology Team; Learning, Research and Engagement
Education
MLS, Library Science, Queens College, City University of New York (CUNY)
MA, Chemistry, Queens College, CUNY
BA, Chemistry, Queens College, CUNY
What I do at Mason Libraries
As the Physical Sciences Librarian, I provide research support and services to the faculty, staff, and students in the following departments in the College of Science:
Chemistry & Biochemistry
Physics & Astronomy
Mathematical Sciences
Forensic Science
Computational and Data Sciences.
As the STEM Data Librarian, I provide consultation services for finding, acquiring, managing, and preserving data. I collaborate with the Digital Scholarship Center (DiSC) in offering research data management services and support for scholarly communication and digital scholarship.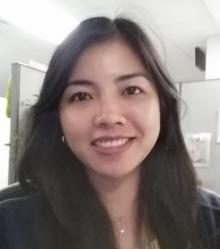 Contact Information:
Building:
Fenwick Library