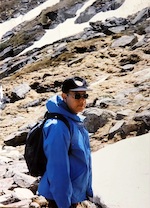 Dr. Howard R. Bloch was born in Zwiesel, Bavaria, Germany and resided in Alexandria Virginia from 1942 until 1958.  He received his undergraduate degree at Duke University, where he was a member of Phi Beta Kappa, and a PhD from Princeton.  He taught at Dartmouth College, Butler University, Lawrence University, and Simmons College before coming to George Mason University.  In 1969, when he joined the Mason faculty, the entire economics staff consisted of only three professors, who were designated as members of the Social Sciences department, and there was no formal economics major.  In 1990 he received the Outstanding Professor Award for service to the undergraduate community.  Until his last illness, he served as the Director of the Economics Department's undergraduate program and advisor to the George Mason University Economics Club.
His many varied interests included travel, theater, fine and exotic dining, professional wrestling, practical jokes, personal finance, and deer hunting.  He was an avid supporter of the Duke and GMU men's basketball teams, and of the theory that Edward De Vere, the 17th Earl of Oxford, was the likely author of William Shakespeare's works. He was a confirmed contrarian and a man of many talents and surprising interests. 
He is survived by his wife of 37 years, Doris E. Bloch, two daughters, Dr. Karen C. Bloch and Janet E. Hoffman, and four grandchildren.
Doris Bloch and her daughters created this endowment in his memory. The subject endowment in the field of economics will support the acquisition of key research data sets, digital resources, and the growth of innovative data management services provided by the Libraries.