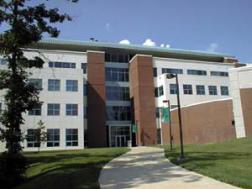 Mercer Library, on the Science and Technology Campus, provides access to all Mason print and electronic resources. Mercer Library specializes in Health Sciences, Biodefense, Bioinformatics, Criminology, Gaming, Security, and Computer Science.
Spaces
Mercer Library has media viewing equipment, as well as assistive technology with a designated scanner, reading software, and CCTV.
Terminals with internet access, Microsoft Office, and SPSS are available to affiliated patrons.
Mercer Library's Consultation Corner can be reserved for one-on-one tutoring or collaborative research support.  Additonally, "Consult in the Corner" sessions are offered each week in support of changing functional and subject literacy.  Reservations for the Consultation Corner can be made by calling the Service desk at (703) 993-8340.
Mercer Library has two public access printers and two photocopiers. You can use cash, your print card, or Mason ID. Copies are 10 cents for each page.  Other printing services (color copies, color paper, transparencies, binding, etc.) are available in the Print Services office, Bull Run Hall, Room 108.
Mercer Library also has group study rooms available for reservation.