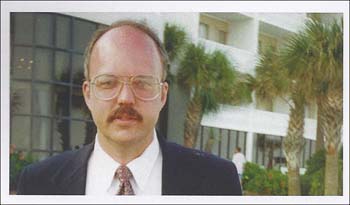 The Kurt Andrew Dodd American History Endowment for the Libraries was founded in 2009 by Rosemary B. Dodd in memory of her son, Kurt Andrew Dodd, who graduated from George Mason with an MA in American history in 1997. Funds from this endowment support the acquisition of materials in the field of American history, with an emphasis on history scholarship.
The Dodd family has always believed in sharing. According to former Representative Bill Young, Kurt was "generous to a fault," always ready to share a book from his personal collection should his coworkers express interest in a subject. This love of sharing knowledge must have begun during Kurt's childhood, when his mother would read to her sons to keep them still during portrait sittings. Rosemary Dodd served as a librarian of the Historical and Genealogical Research Center in Glen Burnie, MD. His father, Roy Frank Dodd, would always take time during family vacations to stop at historical sites, instilling a love of history in his sons, but also, perhaps, reinforcing the idea that history is our collective story, woven through the sharing of our narratives.
The holder of not one but three master's degrees (MS in Geochemistry and Mineralogy, Pennsylvania State University, 1986; MBA George Washington University, 1989; MA in American History, George Mason University, 1997), Kurt dedicated his knowledge to the service of others, serving as a geologist with the U.S. Geological Survey for 17 years before joining the Appropriations Committee as a staff member in the House of Representatives. According to his colleagues, Kurt's analysis and expertise were "critical" for renovation of the National Archives Rotunda so that Americans could once again share in their common story.
To commemorate her son's dedication to American history, Rosemary Dodd founded not only the Kurt Andrew Dodd American History Endowment for the Libraries, but the Kurt Andrew Dodd Scholarship Endowment in History, which supports a graduate scholarship to benefit full-time graduate students pursuing a degree in history. With the library and scholarship endowments, the Dodd family continues Kurt's legacy of incorporating his personal knowledge within our shared American story.