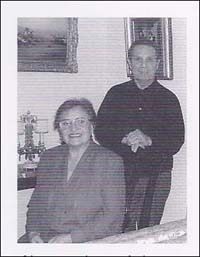 When Adriana Ercolano, MA '11, and her husband, James Helm, established the Franco and Ingeborg Ercolano European Studies Endowment for the Libraries in 2003, they were commemorating the 45th wedding anniversary of Adriana's parents, Franco and Ingeborg, but they were also commemorating the union of two vastly different yet equally rich cultures.
Franco and Ingeborg met in Washington, D.C., in the mid 1950s after emigrating from Europe.  He was from a small town in Italy and she from Heidelberg, Germany. Married on August 30, 1958, Franco and Ingeborg remained in the D.C. area, raising their two children, Adriana and Robert, with "generosity, joy, and warmth." Through ties to their native cultures, Franco and Ingeborg enriched the life of the Ercolano family in their new culture. Adriana Ercolano stayed in the D.C. area, obtaining her second MA at Mason, where she also worked for seven years as Director of Development at the University Libraries.
The Ercolano Endowment celebrates the varied interests of Franco and Ingeborg Ercolano, supporting the acquisition of library materials in the field of European studies, which includes history, art history, government, languages, and literature. The endowment thus continues the Ercolano story, furthering the exchange and enrichment of cultures.