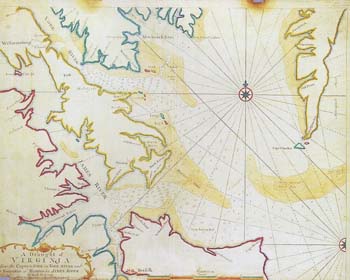 The Washington and Northern Virginia Company of the Jamestowne Society Library Endowment supports the Herschel H. Helm Jamestowne Collection, one of the University Libraries' signature collections on regional history. Established in 2010, the endowment funds the preservation of the collection's rare books, as well as the acquisition of further resources on Virginia and early American history.
The Washington and Northern Virginia Company is a branch of the Jamestowne Society, which was founded in 1936 to honor "all living descendants of the early settlers who made great sacrifices to establish our…nation." Herschel H. Helm led the company for over 15 years, gaining respect as a leader who exemplified the ideals of early Jamestowne. After his death in 1988, the company collected a library of rare books, reprints, and other research materials in memory of their former governor.
The Herschel H. Helm Jamestowne Collection is dedicated to encouraging not only students and scholars, but also the general public, to consider the indelible legacy that Jamestowne left to our nation—a legacy of free enterprise, rule of law, representative government, and cultural diversity. Housed in the Special Collections Research Center (SCRC), the materials are accessible for perusal in the SCRC reading room. The collection features works on the history of Jamestowne and seventeenth-century Virginia from 1607 to the transfer of Virginia's capital from Jamestowne to Williamsburg in 1699. Highlights include John Burke's The History of Virginia: From Its First Settlement to the Present Day (1804), the first comprehensive history of the commonwealth, as well as an 1865 reprint of William Stith's History of the First Discovery and Settlement of Virginia, which was written a little over a century after the founding of Jamestowne. Other nineteenth and early twentieth-century studies offer insights into the politics, economy, and domestic life of America's first permanent settlement.
Since the collection's installation in the SCRC in 1996, the Herschel H. Helm Jamestowne Collection has grown significantly, serving as an invaluable primary source for an annual average of eight graduate and undergraduate courses in American or Virginia history. The collection is also in regular use by communities beyond George Mason University, both academic and general. Thanks to support from the Washington and Northern Virginia Company endowment, the University Libraries continues to enhance the collection, providing a foremost educational and research resource on colonial and early Virginia history.