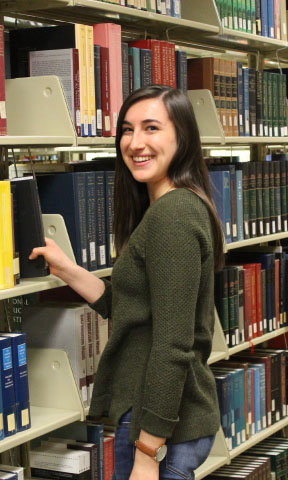 A library student assistant in the Fenwick Library stacks
In response to a challenge gift made in 2017 by a 1974 Mason alumna who was a former University Libraries' student employee, the Libraries began raising support to fund a new endowment – The Student Assistant Scholarship Endowment for the Libraries. The initiative was officially launched as part of Mason's first annual Giving Day on Thursday, April 6, 2017, and was fully funded by the close of Mason's second annual Giving Day on Thursday, April 5, 2018.
With the generosity of Mason alumni and friends, the Libraries created this endowment to recognize and support student assistants who have demonstrated outstanding work performance in the University Libraries while meeting the academic requirements of their coursework at Mason. The purpose of the endowment is to award scholarship(s) each year to provide assistance to student employee(s) with their educational expenses at Mason.