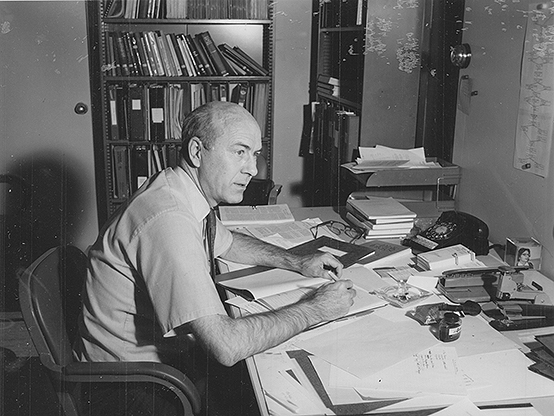 In 2013, The John N. Warfield Endowment for the Libraries was established by Rosamond A. Warfield, widow of Dr. John N. Warfield. The endowment provides permanent and consistent funding for the preservation of the existing John N. Warfield Collection gifted in 2000 and for its expansion through the acquisition of scholarly research materials in subject areas of greatest interest to the late Professor Warfield. During his sixty-year career, Warfield was a pioneer in the field of computers and Systems Science, an interdisciplinary field, which studies complex systems in nature, human interaction, and science. Dr. Warfield passed away in 2009.
Warfield began his career studying electrical engineering and mathematics, leading him to work with early computer prototypes.  He earned a PhD in electrical engineering from Purdue University.  From his work in math and electrical engineering, he became interested in group pathologies and began to examine how and why people make decisions especially in situations that involve a great deal of complexity.
At George Mason University, Warfield served as Director of Mason's Institute for Information Technology and ended his tenure as Director of the Institute for Advanced Study in the Integrative Sciences (IASIS), a part of the Institute of Public Policy, currently the Schar School of Policy and Government.  He was a faculty member from 1984 until his retirement in 2000.
His long and successful career yielded dozens of major publications, honors, and awards. Two of his awards were conferred by the Institute of Electrical and Electronics Engineers: the Joseph G. Wohl Award for Outstanding Career Achievement and the Third Millennium Medal, both in 2006. Maintained by George Mason University Libraries' Special Collections Research Center, two permanent digital exhibits highlight materials from the Warfield collection and John N. Warfield Papers, 1931-2009, which include letters, photographs, drawings, and audiovisual materials. These digital exhibits can be accessed through the following two portals: Attacking Complex Problems: The Life and Work of Dr. John N. Warfield and The John N. Warfield Digital Collection.