Introduction
Welcome to the George Mason University Libraries tutorial on locating full text of journal articles from citations found in a bibliography or references cited page. This tutorial offers an example citation, but you are welcome to follow along with your own citation.
---
Finding Full Text
Here we use an article from the Journal of Policy History as an example. The full citation for this same article is Schrag, Zachary M. "How Talking Became Human Subjects Research: The Federal Regulation Of The Social Science, 1965-1991." Journal of Policy History 21.1 (2009): 3-37. The image below breaks down the individual parts of the citation.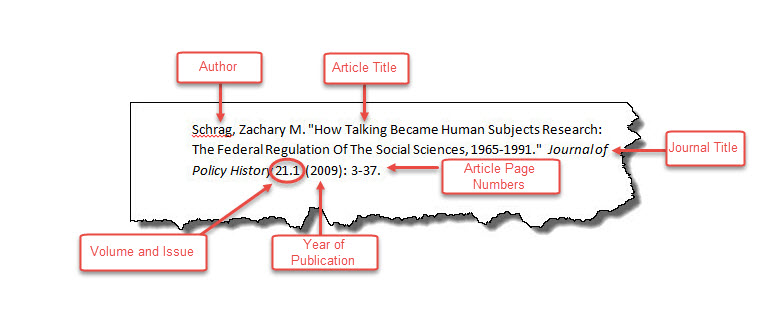 How to locate this article:
Begin at the Mason Libraries' homepage. Sign in to your Mason Libraries' account by clicking on "My Library Accounts" in the upper right corner and selecting "My Mason Library Account" on the following page.

Return to the Mason Libraries' homepage and click on the blue "Journals" button.

Search for your journal title and select it from the results page. Click on the "available online" function to access it.

Identify the date(s) you need. In the example, the publication date is 2009.

Review the resources in the list for the correct publication date. In the example, all resources include 2009 coverage dates.

Locate the list of volumes and/or issues. In the example, it is the hyperlinked text "All issues."

Locate the specific article from the publication's record and browse until you find the correct date, volume and issue. The example lists volume 21, issue 1.

You can also search the article title with the journal's search bar (if available).

If you are unable to find your article, you can place an interlibrary loan request. To learn how to request interlibrary loans, see the interlibrary loan tutorial on the How Do I...? page under "Library Services".
---
Get Help
For other questions or if you need more help try Ask a Librarian or explore the subject guide for your discipline. Use the button below to download a printable version of this tutorial.
 Find Full Text from Citations by The Teaching & Learning Team is licensed under a Creative Commons Attribution 4.0 International License.