Library Faculty/Staff profile for adrisco2
Anne Melville
Education Librarian

Social Sciences Team; Learning, Research and Engagement
Education
E-Learning Certificate (Graduate Certificate) (2015)
George Mason University, Fairfax, VA
Master of Science in Information Science (2001)
University of Tennessee, Knoxville, TN
Master of Science in Adult Education (1997)
University of Tennessee, Knoxville, TN
Bachelor of Arts in English (1985)
Certificate to Teach English as a Second Language (1985)
Portland State University, Portland OR
What I do at Mason Libraries
As the librarian for CEHD and the Higher Education program, I communicate, consult and collaborate with students and faculty on their research  and resources needs.  I provide face-to-face, online or recorded  library instruction classes and provide one-on-one research assistance in person, online (via Webex, Zoom or Collaborate), by phone or via e-mail.  I am also embedded into online/distance courses to facilitate students research questions and needs. I select books, journals, multimedia, online sources and other scholarly materials for the College of Education, the Human Development programs, and for the Higher Education programs.
Link to All Education & Higher Education Subject Guides - Connects to all subject and course specific guides for Education & Higher Education
Selected Publications
Melville, A. (2020). Citizen science at the Smithsonian Environmental Reseach Center (SERC). Public Services Quarterly (16)1: 24-25. https://10.1080/15228959.2019.1698385
Melville (Driscoll), A. (2018).  Organic roots collection. Reference Reviews. Accepted for publication June 2018. (Ceased publication before printed)
Driscoll Melville, A. & Olesova, L. (2017). Embedded library services: From cooperation to collaboration to enhance student learning in asynchronous online course. Journal of Library & Information Services in Distance Learning, 11, 287-299.  doi: 10.1080/1533290X.2017.1404546
Driscoll, A. (2016). To MOOC or not to MOOC: How can online learning help to build the future of higher education by Sarah Porter?  Against the Grain, 28(4): 58-59. Retrieved from: http://www.against-the-grain.com. (Book Review). 
Selected Presentations
Chakraborty, M., Mastrodonato, T. & Melville, A. (2020). Do or Do Not, There IS Try: Challenges, Considerations, and Conversations.  Distance Library Services Conference 2020 – November 3, 2020
Melville, A. (2018). ACRL Information Framework – Frame 6:  Searching as Strategic Exploration – Guiding Students on Their Research Quest – June 27, 2018
Reasebeck, K., Joshi, S, Melville, A., Berkoff, N., & Cook, B. (2018). Combatting Plagiarism Team & presentation for University of Maryland University College on July 2, 2018
Melville, A., Olsevoa, L. Calcagno, T. English, M. Miller, D. (2017). Library-faculty collaboration: Effective strategies for embedding online library services. Innovations in Teaching & Learning Conference on September 22, 2017.
Melville, A. & Olsevoa, L. (2016).  Effective strategies for embeddding library services.  George Mason University Librarians Workshop on November 9, 2016.
Select Professional/University Service
Professional Service
Elsevier Advisory Panel: February 2, 2016 to present
Association of College and Research Libraries ACRL Workshops Planning Committee:  July1, 2015 to June 30, 2017
Association of College and Research Libraries Instruction Immersion Program Committee: July 1, 2016 to present
University Service
George Mason University, Library's Online Teaching and Learning Group - 4/25/19 to present
George Mason University. Mason Core Assessment: Social Behavioral Sciences March 2019
George Mason Bachelor of Individualized Studies Faculty Mentor:  2019, 2018, and 2015
Mason Learning Environments Group (LEG): 2013 to present
Faculty Advisor for the Journal of Mason Graduate Research (JMGR). 2012 to present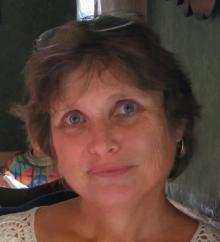 Contact Information:
Building:
Fenwick Library