Introduction
Subject librarians can be an excellent resource to you during the research process. In this guide, you will learn tips on how to setup and prepare for an appointment with your subject librarian to get the most out of your research appointment. Browse the list of subject specialist librarians at Mason to find the best person to contact for your research needs.
---
Emailing Your Subject Librarian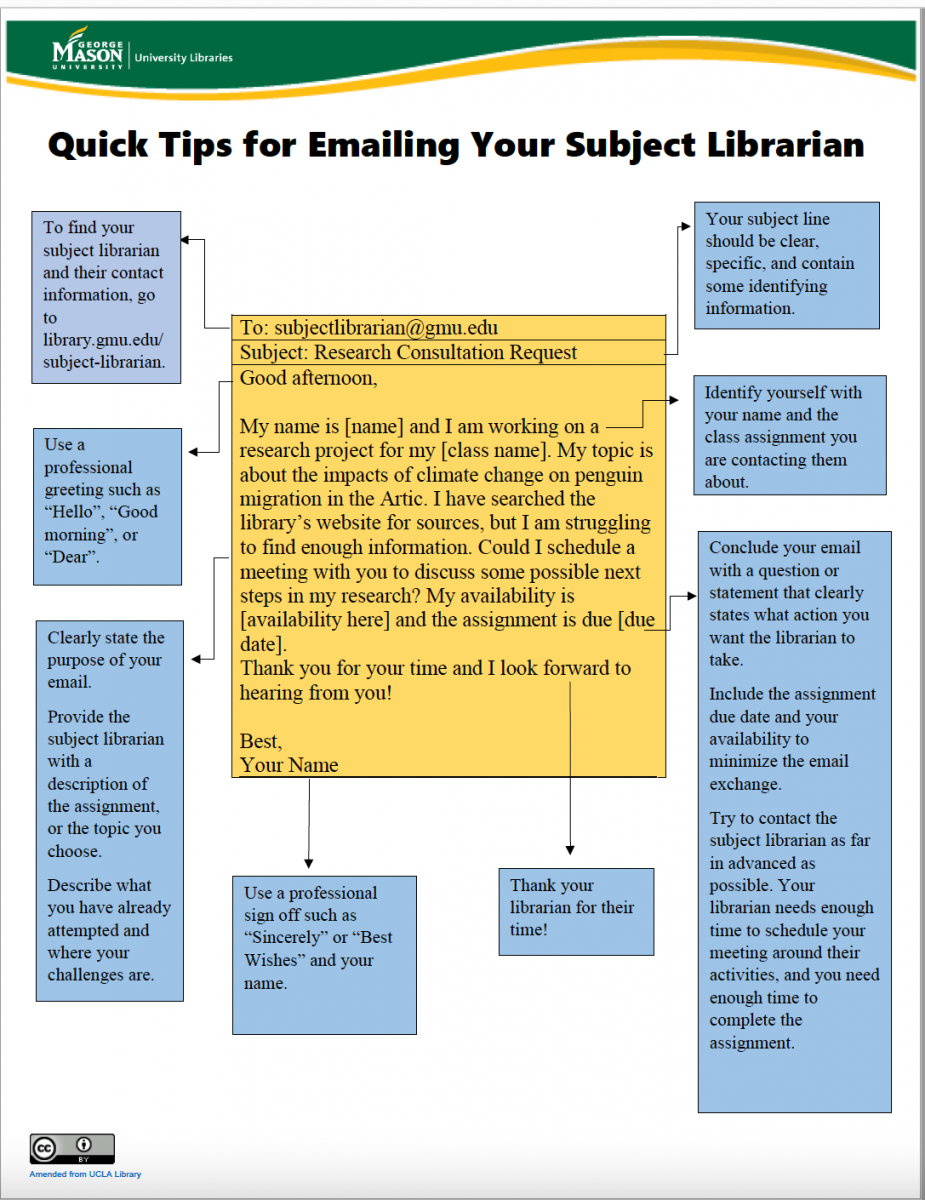 For an accessible version, view this image as a pdf
Meeting With Your Subject Librarian
Before the meeting:
Check available resources to answer your question: review your class syllabus and ask your peers or professor to ensure you understand the assignment to the best of your ability. 
Prepare your questions ahead of time: jot down specific topics and questions you want to discuss in the meeting. Bring the list with you to the meeting. 
Be flexible: you may not get to everything you want to discuss in one meeting, so prioritize your concerns. 
During the meeting:
Come prepared: bring notes, relevant materials (assignment description, outlines, drafts), your list of questions, and your preferred note-taking method.
Make the most of the meeting: be honest about what previous knowledge you have and what you have already tried. Start with your most important questions and concerns.
Remember to be respectful and professional: use the correct prefixes, arrive on time, and thank your librarian for their help. 
After your meeting:
Put it into action: use the tips from your meeting and apply it to your research. Access other campus resources to help you complete the assignment (professors/TA's, the Writing Center, Library Subject Guides, etc.).
---
Get Help
If you have questions or need more help try Ask a Librarian or explore the subject guide for your discipline. Use the buttons below to download a printable version of this tutorial.
 Amended from UCLA Library. Contact and Meet with Your Subject Librarian by The Teaching & Learning Team is licensed under a Creative Commons Attribution 4.0 International License.