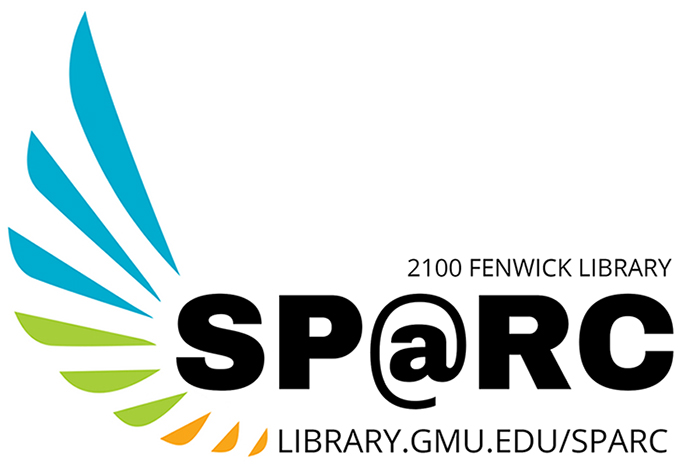 The mission of the Scholarly Productions @ the Research Commons Lab is to provide point of need assistance for scholars in disseminating their research, regardless of format.  Our goal is to create self-sufficient scholars who are able to apply best practices in design and research presentation to their work.
For general help with a research poster or project, schedule an appointment with a staff member below. For help with a specific software, please email us at sparc@gmu.edu so we can schedule you accordingly.
SP@RC offers free research poster printing through a partnership with OSCAR, the printer has occasional technical difficulties that could result in a delay, please schedule your appointment with ample time ahead of your conference or class.
SP@RC Lab
2100 Fenwick Library
*From July 1 - August 25, SP@RC will be open by appointment only. Please email sparc@gmu.edu for assistance.*
Monday
Tuesday
Wednesday
Thursday
Friday
11 a.m. - 4 p.m.
11 a.m. - 4 p.m.
11 a.m. - 4 p.m.
11 a.m. - 4 p.m.
Closed
The Writing Center at Fenwick
2100 and 2302 Fenwick Library
Consult with Writing Center staff.
The Office of Student Scholarship, Creative Activities, and Research
246 Johnson Center
Get started with a poster template from OSCAR.
Services
How to...
Partners