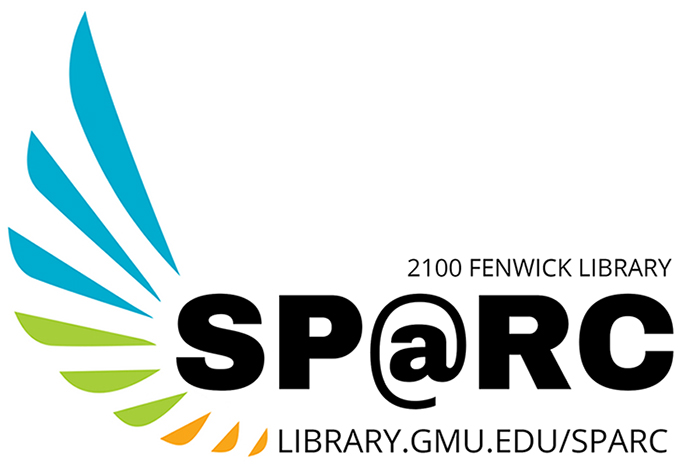 The mission of the Scholarly Productions @ the Research Commons Lab is to provide point of need assistance for scholars in disseminating their research, regardless of format.  Our goal is to create self-sufficient scholars who are able to apply best practices in design and research presentation to their work.
For general help with a research poster or project, schedule an appointment with a staff member below. For help with a specific software, please email us at sparc@gmu.edu so we can schedule you accordingly.
SP@RC offers free research poster printing through a partnership with OSCAR, the printer has occasional technical difficulties that could result in a delay, please schedule your appointment with ample time ahead of your conference or class.
**The SP@RC lab is currently closed to the public. Please email sparc@gmu.edu for virtual assistance or to schedule an appointment to print a poster. Poster printing is available by appointment only, please email at least 2 business days ahead of your preferred appointment time.**
SP@RC Lab
2100 Fenwick Library
Monday
Tuesday
Wednesday
Thursday
Friday
10 a.m. - 5 p.m.
10 a.m. - 5 p.m.
10 a.m. - 5 p.m.
10 a.m. - 5 p.m.
Noon - 4 p.m. 
The One Button Studio is a simplified video recording setup that can be used without any previous video production experience. 
You only need to bring your flash drive with you and push a single button.
The Office of Student Scholarship, Creative Activities, and Research
246 Johnson Center
Get started with a poster template from OSCAR.
The Writing Center at Fenwick
2100 and 2302 Fenwick Library
Consult with Writing Center staff.
Services
How to...
Software
SP@RC houses six Mac desktop computers equipped with the following Adobe software, available to the Mason community. Drop by during our open hours to use a computer, or email us at sparc@gmu.edu to reserve some time. 
Adobe Acrobat DC                                     
Adobe After Effects CC 2018
Adobe Animate CC 2018
Adobe Audition CC 2018
Adobe Bridge CC 2018
Adobe Character Animator CC 2018
Adobe Dreamweaver CC 2018
Adobe ExtendScript Toolkit CC
Adobe Fireworks CS6
Adobe Flash Builder 4.7
Adobe Fuse CC
Adobe Gaming SDK 1.4
Adobe Illustrator CC 2018 
Adobe InCopy CC 2018
Adobe InDesign CC 2018
Adobe Lightroom Classic CC
Adobe Media Encoder CC 2018
Adobe Muse CC 2018
Adobe Photoshop CC 2018
Adobe Prelude CC 2018
Adobe Premiere Pro CC 2018
Adobe Scout CC
Adobe SpeedGrade CC
Partners