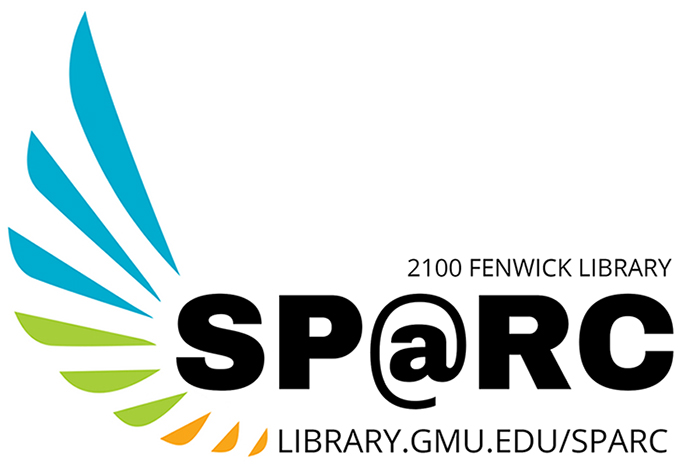 The Scholarly Productions at the Research Commons (SP@RC) Lab assists scholars and artists in the production and dissemination of research/creative activities, hopefully sparking inspiration for your next project.
Our services and resources include research poster printing, Risograph printing, four Mac workstations, the One Button Studio, and instructional workshops and consultations. The Lab's workstations are equipped with Adobe Creative Cloud, Microsoft Office, GIMP, and Zotero, among other software.
Printing services are available for free through a partnership with the Office of Student Scholarship, Creative Activities, and Research (OSCAR).
Who can use it?
The Lab can be utilized by any Mason student or faculty. Mac workstations are available on a first come, first serve basis. Those seeking instruction in graphic design or photo/video editing should check our calendar for upcoming workshops or email us to schedule a one-on-one consultation.
No appointment is needed to pick up your poster or to visit the Lab at 2100 Fenwick Library during our open hours.
Pl
ease use this form to submit your poster for printing.
Average turnaround time is 24 hours. A Mason email is required for printing services.
SP@RC Lab
2100 Fenwick Library 
Monday
Tuesday
Wednesday
Thursday
Friday
11 am - 4 pm
11 am - 4 pm
11 am - 4 pm
11 am - 4 pm
11 am - 4 pm
A simplified video recording setup that can be used without any previous video production experience. 
Learn more here!
To reserve Studio time email us at sparc@gmu.edu or call us during office hours at 703-993-1613.
Get started on your research poster with a template and some tips from OSCAR.
WATCH: A basic guide to creating research posters
Partners